Baldur's Gate 2 and Icewind Dale 2
I've been playing through a good part of these two games a few weeks ago. Here are my thoughts about the games, as well as screenshots (click on a picture to enlarge it). Both games are based on the real-time-with-pause Infinity Engine from Bioware.
Playing Infinity Engine games on a recent computer
Both games come with a configuration programme. Launch it and in the AI options set frame rate to 60 updates per second (to increase walk speed) and path search nodes to 400,000 (to improve pathfinding). Another game option that's handy is to set character-circle effects to "always activated", that way you can differentiate sleeping creatures from dead creatures.
Also, if you're playing on a Dell laptop, and possibly other laptop brands, there will be in both games a bug making all keyboard input very slow and unreliable. To avoid that bug you need to turn the touch pad off: go to Control Panel, click "Mouse", select the "Device Select" tab then click "Disable Touch Pad when USB pointing device is present", then plug a USB mouse to play.
Icewind Dale 2 (IWD 2)
IWD 2 is based on D&D 3rd Edition (unlike IWD 1 and the Baldur's Gate games which are based on AD&D 2nd Edition). At the beginning you create a party of up to six characters with a point-buy system. I recommend just four characters as the game is still easy, you gain levels quicker, pathfinding doesn't get stuck and it's easier to control the party during battles. Since this is 3rd Edition, you get to pick feats and skills for each character. I have no idea what good are any of the skills, apart from Concentration maybe (lower chance of disrupted spellcasting). The feats include the usual weapon proficiency, weapon focus and weapon specialisation. There are feats for two-weapon fighting and some feats that increase your mage's damage with an element like fire.
It is easy to imagine a background for your party. Here's my party's background for roleplaying sake:
Zara and Valior are childhood friends. Zara is a non-specialist elf wizard while Valior is a human cleric of Lathander. They have heard about goblin attacks in the north and they are bored to death of life in Luskan. Valior wants to help the people of Targos and Zara is looking for spell scrolls. They met Livia Stonecut, a dwarf fighter, as she was walking out of the military academy. They recruited her and the three of them agreed on a voyage to the north. Lastly, they hired Scarface in a tavern on Luskan's docks. Scarface, a half-orc mercenary with bulging muscles, always wears a helmet to hide the horrible scars on his face. He never speaks of his past to anyone.
The game starts in the port city of Targos. Your ship has just landed and you can hear the sound of a war horn. Goblins are invading the city, it's your task to push them back.
The character sheet. We're given more information about rolls and bonuses in IWD 2, compared to the other Infinity Engine games. For example, the character sheet breaks up the attack bonus into its components (weapon focus, magic weapon bonus, base ability bonus, etc). During combat, we are given the detail of attack rolls – but not the target's armor class. What good is the attack roll if you don't know the target's AC?
Goblins teleport inside the city at night then wreak havoc. There are some very good scripts in the first part of the game. The quality goes down around the game's middle though.
Goblin-infested tunnels.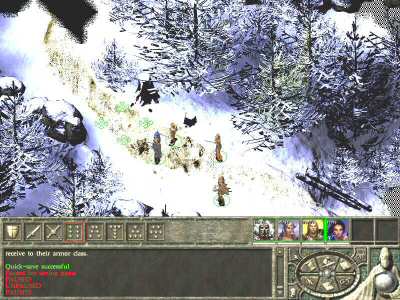 A trek through a beautiful snowy forest landscape.
The party fights to regain control of a major bridge. You can disrupt spellcasting by casting Chromatic Orb on an enemy mage because Chromatic Orb has a very short casting time.
Regardless, wizards get a rotten deal because in most cases their most powerful spells (the area of effect spells) will either hit allies or miss the enemy, due to the real-time nature of the engine.
One of the more interesting battles in the game. The party climbs the stairs to find itself surrounded by enemies, including tough warriors in melee range and mages and archers standing on castle walls. Too bad many of the bad guys won't help their associates until you unveil the "fog of war" – a serious AI failure in my opinion.
Me is Trugnuk! You no Trugnuk!
Some of the dialogues are very enjoyable.
The party destroyed a bunch of evil clerics in some kind of frozen city. All creatures seem to carry 4 or 5 gold coins plus a potion of healing. It gets very tedious having to sift through the stacks of potion, gold and worthless rings found on corpses.
The good:
- the background graphics are very good
- the music is excellent
- good scripted events and interesting plot at least in the first half
- ruleset is a bit better than AD&D 2nd Ed.
The bad:
- the interlude between chapters is slow and irrelevant to the story line.
- too much of the magic is cast before combat (protection spells) rather than during combat, the real-time-with-pause engine makes it difficult to cast area of effect spells, and sometimes wizards lack spells for their high-level slots since they are not given any spell picks at level up (you need to find the scrolls).
- tends to lose the plot around the middle – are we actually protecting the city or just looking for more foes to slaugther mindlessly?
- the tedium of picking up (or at least sift through) hundreds of tiny gold stacks and other useless trinkets.
IWD 2 versus IWD 1:
Both games are quite good although both feature a large amount of tediousness. In my opinion IWD 2 is more enjoyable than the first mainly because it has a much better plot. The basis for the plot of IWD 1 is "the darkness is approaching, it's getting colder, the snow isn't going away! We need to find the source of all this evil!". Then after defeating a horde of undead you find out that "oh, actually they weren't the source of the evil, so let's look elsewhere now". Also, I would give an award to the main city of Icewind Dale 1, Kuldahar, for its tediousness and ability to break the pathfinding algorithm.
Baldur's Gate 2 (BG 2) Shadows of Amn
BG 2 is considered by many as the best fantasy cRPG. Therefore, I had to try it. You create a single character (or the entire party with the multiplayer mode, but then you won't have all the player character interactions) with a system where you roll the abilities than redistribute the points as needed. Since you have only one character, I suggest not to bother rolling and instead use the Ctrl-8 cheat (you must add Debug Mode=1 under [Program Options] in the Baldur.ini file first) to get 18 in every ability. I created a multiclass fighter/mage elf. It's a good choice since you can fight nearly as well as a straight fighter but with the benefit of a Stoneskin spell, which can be cast only on self. Still, it's a bit annoying not having quickly access to the more powerful spells, like Disintegrate, considering the low experience awards and slow levelling up.
You start the game as the prisoner of the ultra-powerful mage Irenicus, the epitome of the mad scientist. He's much like Dagolar in Dark Sun 1 – loves to inflict pain, doesn't mind using torture to gain a bit of knowledge or for any other sinister purpose. Irenicus is interested in you because, like in BG 1, you are a child of Bhaal, the god of murder. So, you are a prisoner in an underground complex. Then fighting erupts in the complex and you get a chance to escape. The BG 1 player characters Minsc (ranger), Jaheira (fighter/druid) and Imoen (thief/mage) are also prisoners and soon you rebuild your party. There are a few things to do in the complex, then you find the exit. It leads to the city of Athkatla, the largest city in Amn. As soon as you exit the complex you find Irenicus fighting with the Cowled Wizards – Athkatla's police. The Cowled Wizards arrest both Imoen and Irenicus for unauthorised use of magic. From then on you are free to explore Athkatla and other areas while keeping in mind your objective of freeing Imoen and confronting Irenicus.
The genie wants the answer to a mathematical riddle.
Anomen's father claims that Saerk, a merchant, killed his daughter. He asks you to kill Saerk. However, Anomen's vows as a knight forbid him to seek revenge. Personally I don't see that as revenge though, but as justice, given that the city authorities will do nothing.
Umber hulks. They can cast confusion. Had to kill them one by one – like in Icewind Dale 2, creatures (even those that are part of a group) won't attack unless you lift the fog of war which hides them.
An iron golem. Immune to most weapons and spells, but not to hit-and-run tactics since you can damage it, run away and rest, then come back and it will still be damaged.
Firkraag, a red dragon. His abilities include a wing buffet which knocks surrounding opponents and a fire breath weapon (although it looks like a fireball). On my computer, though, his most terrible weapon is the bad slowdown that I get as soon as the dragon appears on the screen. It's almost impossible to beat him when you first meet him because the party's level is so low. There are two ways, though: using a cloudkill wand on him from far away, without making him hostile (he won't move away from the cloud), or using a combination of spells like lower spell resistance followed by disintegrate or lower spell resistance followed by harm. The reward for defeating him? A +5 weapon that only a paladin can use. Knowing that there's only one joinable paladin in the game, I think this restriction is a bit extreme.
A crypt filled with traps and undead. Really nice Egyptian-like design.
A trap similar to that found in the film Indiana Jones 3. Step only on the name of the great lord.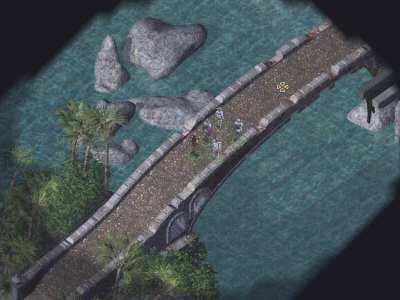 The bridge to Spellhold, where Imoen and Irenicus were sent to. A magic barrier on the bridge will kill you unless you have a special key.
The good:
- the background graphics are very good, better than Neverwinter 2 in my opinion. Many buildings in Athkatla have an Arabian look, a nice touch.
- the sheer number of dialogues - there must be thousands of dialogue scripts in this game.
- most quests are very interesting and not of the Fedex delivery man type. Furthermore, the game features mature themes like slavery, torture and revenge killings.
- some interesting intra-party dialogues, like the romance with Aerie, or Minsc deciding that Aerie will be his "witch". On the other hand, comments from the party members can get annoying due to repetition.
- the mix of puzzles/battles/dialogue - although in my opinion there are too many puzzles and long-winded dialogues, and not enough meaningful combat encounters.
The bad:
- sluggishness: this game has long loading times, although shorter than in Neverwinter 2. Out of the 50 to 100 hours needed to beat the game, how much time is spent just watching the load screen? Additionally, there are slow downs in combats involving large creatures or a high number of creatures.
- the usual problems with a real-time-with-pause combat system. This is made worse if you have six characters (for maximum interaction between characters) - that means six characters to manage. Like in IWD 2, too much of the magic is cast before combat (spells like Mage Armor, Stoneskin and Haste) rather than during combat and it is difficult to cast area of effect spells. There is a large number of spells but 90% of them are either useless or impractical. It's also rather difficult to know how much damage each of your characters is doing because during combat everything happens so fast. Most fights are over in one minute, including the time the player takes when pausing. Another problem with combat is the low level of experience awards, making levelling up slow.
- the incoherences in the storyline. For example: you can buy a licence to use magic for 5,000 gold, so why would Irenicus not have bought one? There are spells to polymorph creatures into anything, so why does Aerie go on and on about the fact that she will never recover her wings (she's a winged elf who had her wings cut off)? I also consider it incoherent that Anomen can cut the throat of his enemy's daughter out of spite, and still keep his Lawful Neutral alignment – that's not neutral but very evil. Likewise, Korgan (chaotic evil) is pretty much out of character for his alignment. Would a chaotic evil character stay with a party of lawful good characters, obediently following their every order? No, he would wait for the party members to sleep, then grab their cash and run away, or worse, murder them all in their sleep possibly with the help of some other thugs. Lastly, some dialogues/quests are rather inane… are the various lover-match-making quests the best use of time for a party of heroes?
- just like in Neverwinter 1, you will find in the main city hundreds of barrels, crates and other unremarkable containers, all containing petty rewards - a scroll of identify, or a small gem, or 3 gold coins, or a potion of healing. There are two effects to this: the plausibility of the game world is reduced and the player wastes his time sifting though all the junk. Same problem with enemies dropping 4 or 5 coins on each corpse. Furthermore, considering the sheer number of gems you pick up in the game, why do gem bags have such a limited capacity? How heavy can a gem be? The party's backpacks are often full with all the gems and scrolls and picking up new stuff means having to micromanage each character's inventory.