As I said earlier, I finished BG2 and the expansion, Throne of Bhaal, with a three-character party, the elf cleric/mage Aerie, human paladin Keldorn and my elf mage/thief, Phindrel.
Using the dark elf cleric Viconia was not an option due to the presence of Keldorn, who would quickly start a fight with her for being a dark elf. The Harper druid Jaheira, I can't stand her attitude, the lamentations, balance in all things, etc. I used the gibberling-3 option to gain access to all strongholds in order to play quests from all classes.
Things I liked:
- The 'unseeing eye cult' story arch. Genius, it reminds me of Dark Sun's Wyrm story arch (the wyrm was populated with mageras, a smarter kind of ogre. The mageras were tricked by evil wizard Balkazar into thinking that they can aspire to a 'transformation', a passage to a greater form of life, when in fact they would just be killed for sport or to produce tanari demons).
- The character Keldorn. Equipped with Carsomyr, he turns the game from <<*&#@! I can't do any damage?!>> to <<piece of cake!>>.
- The Haer'dalis quest that transports the party to a frozen prison world.
- The paladin quest where you have to protect a young noblewoman hiding in a house. Later, four assassins enter the house. Three of them attack the party while the fourth one goes straight upstairs to kill the noble. That was really smart. Then the noble's godfather turns up to pick her up, and a "Know Alignment" spell reveals him to be evil. Again, very smart. I expected/hoped for more assassin attacks after I killed the false godfather, but nevermind.
- The planar sphere was a good idea. I liked the reference to Dragonlance. However, the sphere could have been much more than a dead-end. For example, it could have given access to one or two villages in exotic planes or distant worlds.
- In TOB, the city under siege by the fire giants was very well designed. You can see archers on the walls shooting at the giants, while the giants bombard the city with fireballs. Some archers get killed and are immediately replaced by new recruits. Very nice.
- In TOB, loved the Sahuagin-city Prince and King plotting, and the sacrificing of the priestess. A classic tale of the rebel faction trying to overthrow a mad king. Except in this case all the factions are evil, even the rebels.
- In TOB, the battle against the bhaalspawn girl that exists in seven copies (with her dark elf allies) was very enjoyable.
- In TOB, experience awards are higher and levelling-up is much quicker than in the first half of BG 2. The reason for this, I think, is because TOB is linear and so more able to offer encounters that correspond roughly to the level of the player characters.
- In TOB, during certain battles the enemies get reinforcements (using a script, I assume) - a good idea for KotC 2.
Things I disliked:
- The tediousness of having to check through each insignificant pile of loot because it may contain something pricey or useful (but usually doesn't). Further, why do I need to pay 15,000 gold to buy a +2 flaming longsword, when selling it yields only 1,000 gold? Why is the game so stingy? As a result, I never sell the good stuff, and instead store it inside the shopkeeper's booth.
- A certain lack of purpose in Chapter 2. It seems that whether you skip, fail or succeed a quest doesn't really matter at all since all this is optional and there is little effect on the game world. Moreover, because this (large) part of the game is free-form, you may well be level 15 or 16 and still be given insignificant things to do. High-level adventurers ought to be involved in great plots with great beings, not mundane tasks like fetching an item or solving a simple murder.
- The main city feels deserted. Where are the crowded marketplaces in Waukeen's promenade? The merchant traffic at the gate and bridge districts? The soldier patrols in the government district? Children running barefoot in the slums? Do people never leave their districts, I never see any passersby leaving a map or entering one, only my party? Simply having Aerie ask if all cities are this
crowded
, doesn't give me the impression that the city actually is crowded, the way real-world cities often are. I think the city of Baldur's Gate, in BG 1, felt even more deserted than Athkatla. I know of only one game that did the "crowded" feeling well, it's Theme Hospital.
- Creatures with an immunity to spells, like the rakhsasas. I wouldn't mind this if it was made clear somewhere, anywhere, that no spells below level X can affect this or that creature. But no, it's left to the player to experiment until he realises that the only viable tactic is to run away, wait for the creature's Protection from Weapons / Magic Weapons to expire, and then come back for a melee fight. Regarding spells, the manual often uses the term "turn" but never defines it (it is equal to 10 rounds).
- The manual mentions a -1 penalty to the attack roll for using a weapon without proficiency. In fact, the game applied a -5 penalty to my mage/thief character, making the "Use Any Item" ability much less effective.
- At the end of BG 2, you are supposed to pick nuts from a tree of life. Do it as soon as you see the tree, because if like me, you miss them at first and come back later, you won't be able to pick them.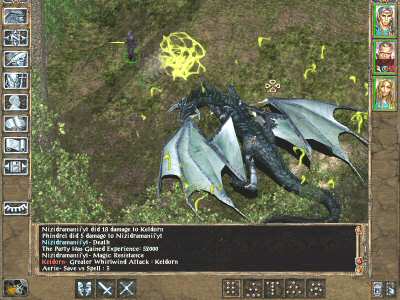 - Being of good alignment, the party considered Pirate Lord Desharik to be a tyrant and attacked him on sight. Later, Desharik came back from the dead to threaten the party not to take his ship. Then I killed him again and took his two scimitars +1 again. A design oversight, apparently.
- Losing the ranger cabin and ranger quest arc in retribution for offering wine and swords to some youngsters, a bit extreme innit?
Villagers, don't bother calling for help the next time!
The game actively promotes a detrimental course of action by giving experience points for completing the wine-and-swords Fedex quest, which later on triggers the loss of the ranger stronghold (and all that the stronghold contains).
Notes on difficulty:
The only battle I would qualify as being as difficult as the Keep end-battle in KotC would be the one against Melissan at the very end of TOB, if you're not using a thief's traps. With the spike trap ability that you get from the high level abilities, it's a piece of cake. Second hardest would be the battle against Draconis, because of his powerful invisibility-wing buffet-heal self sequence. The "fission slimes" are impossible to beat until you find out that only fire can eliminate them. All the other battles are quite easy (in hardcore mode) as long as Keldorn is hasted, wields Carsomyr and uses the Greater Whirlwind ability from time to time. Watcher's Keep probably has some tough creatures, I haven't checked it out yet.
To beat Firkraag early, I found that 2 Lower Resistance followed by 4 or 5 Magic Missiles work more reliably than chromatic orbs (even with greater malison). Summoning an earth elemental also helps.
The spells and high level abilities that I used (all the others seemed ineffective, inconvenient or simply not as useful as these):
Magic Missile
Blur
Horror (used once or twice)
Know Alignment
Melf's Acid Arrow
Mirror Image
Fireball
Haste (nearly every battle)
Invisibility 10' Radius (used a few times)
Protection from Fire
Emotion Hopelessness (few times)
Fireshield red/blue
Improved Invisibility
Stoneskin (always)
Conjure Lesser Elemental and Conjure Elemental (Compared to Monster Summoning, the elementals are tough, have nice immunities and stay longer)
Lower Resistance
Contingency: Dispel upon Helpless status (few times).
Disintegrate (once or twice)
Improved Haste (nearly every battle)
Tenser's Transformation (few times)
True Sight (from Keldorn's abilities)
Mass Invisibility (often)
Abi-Dalzim's Horrid Wilting (few times)
Bless (few times)
Chant
Lesser Restoration
Protection from Evil 10' Radius
Harm (once or twice)
Heal
Summon Planetar and Summon Deva (nearly every battle once I got the ability)
Elemental Summoning
Whirlwind attack and Greater Whirlwind (often)
Hardiness (often)
Set Spike Trap
Set Exploding Trap
Use any item
Comet
Me: "The monster will trouble you no more."
NPC: "Yes, and with all haste."
Six different ways of saying "Make your prayers, scum."